What's your time zone?: new zealand
Do you have previous staff experience?: yes I have been staff before, my position was co-owner and head moderator of several servers through out the years
How long have you been with TorvaRev?: 1 day
How many hours do you normally play daily?: I will be as active as possible which will probably 6-8 hours daily
Are you a active/helpful member of the community(In-game and forums)?: yes I believe I am an active helping player of torvarev community
Why do you think you would be a good addition to the TorvaRev staff team? : I think that I would be good for this position as I am very helpful and a loyal player, I am respectful towards all players and love to have many responsibilitys, main reason is because I am always active and love the community and will do my best to help grow the server
Do you know all our rules, and do you know how to deal with a player breaking them?:most certainly do  
Part 2
A player say's that they have been scammed; what do you do: I would ask for proof and also ask the witnesses around the time of the "scamming" if it was true I would tell a higher ranked staff member and wait for what the consequences would be , like jail ,or mute.
Your friend is online and they are breaking a rule; What do you do?: if it was cussing towards players, I would give them a warning as you would depending on the affect or how bad the rule the broke towards the server, If they repeated this action I would then mute them for 1 hour and if keeps repeating this id then ban them  
There's an argument over yell and its gets out of hand what will you do?:I would try my best to stop the argument by talking to both players, and then if it doesn't stop I would then aware other staff and most likely mute them if it was life threats or anything bad like that
A player is needing assistance with things you do not have access to, to assist them what do you do?:I would not assist them if it was to break the rules of the server , I would make sure it was legal and ask a staff member , if its legal I would help them but as I said if its illegal I would not
I hope you pick me to be apart of the team of course there is no harm done if you dis approve
by albertron

Please use the correct title forum listed below,

Topic title: Staff Application - [In-game name] - [Function you're applying for]

Thank you,
-Robbie
sorry my bad thanks for heads up robbie

Should be up here.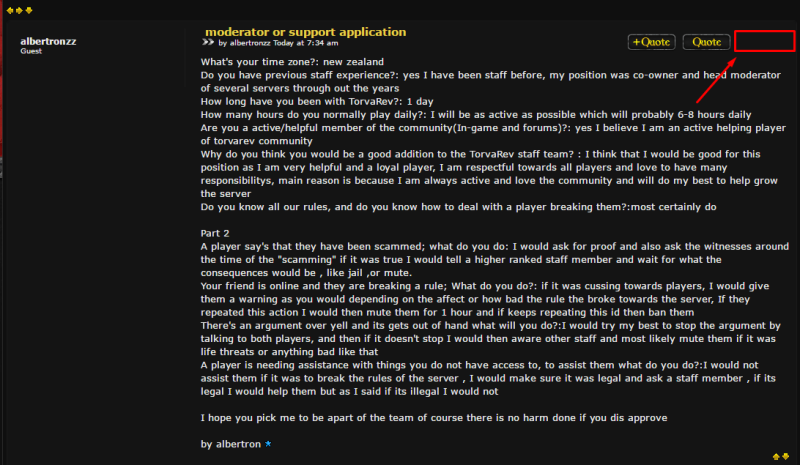 Thank you,
-Robbie
Albertron,
You should definitely be able to, Otherwise delete it, and repost it?
I personally think it doesn't matter about the topic, but if alex'admin' does he'll edit or delete it for you

But i'm fairly sure deletes in the edit view, so let me know how you go?
Thanks, Chaps07



Posts

: 86


Join date

: 2016-06-14


Location

: Australia



it should be fine as It can briefly tell what positions I'm going for hah cheers guys
There is a format for a reason but you could try to ask fatal to edit the title for you but he is busy to try to ask him when he has time spare.

Thank you,
-Robbie
The format is fine, the topic ''context'' is roughly okay.. has barely anything to do with the app, it just repeats his username, given it's already posted by? yes him..

And if alex, the site developer has a problem, he has the authority to do something about it.

Thanks, Chaps07



Posts

: 86


Join date

: 2016-06-14


Location

: Australia



cool thanks

thanks Albertron

Similar topics
---
Permissions in this forum:
You
cannot
reply to topics in this forum